A new business reality:

Regolo Style
Altecon has established a partnership program with the Regolo Style business network, providing its know-how and experience in the hotel and building automation sector.

On the occasion of the presentation occurred on the 25th of February 2012 made in collaboration with Tisettanta; we have developed a specific version of Active Web Room, compatible with any type of tablet or smartphone and able to control rollaway compartments placed in a desk.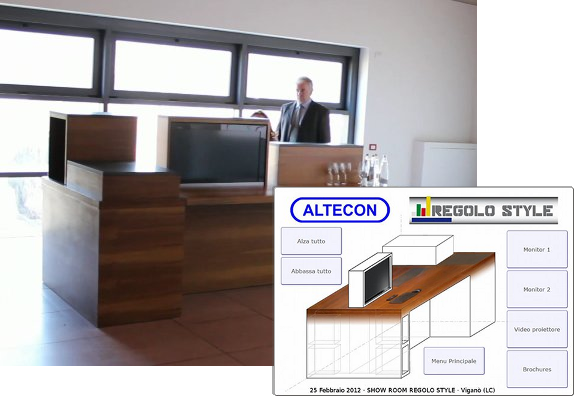 Active Web Room for Regolo Style
Regolo Style provides a wire range of services: from consulting service to designing and rendering.

The expertise offered by the Regolo Style companies also include: prototyping and 3D-design, wooden forniture, glass processing, IT services, glues and adhesive, sounproof panels, carpentry, wood bending, marble and onyx, infrared devices, folding systems, bathroom accessories, awning systems.