Products and solutions » Hotel automation » Active Web Room
Active Web Room
The room management via Tabler or Smart Phone
The option Active Web Room is integrated into the Service Hotel System and allows the guest to operate the room functions, lighs and AC, using his own tablet or smart phone.
The guest must be acknowledged by the reception to use this option; after that, he can use his owm Tablet, Smart Phone or Laptop to operate the room.

Active Web Room optinon is completely resident in the IP Central Unit and uses the IP communication Bus to allow the dialogue between the Central Unit and the guest tablet: no expensive additional hardware device is needed.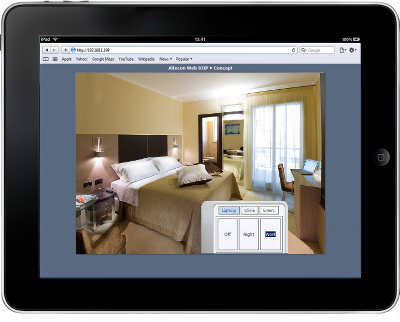 Interface
The Interface between Active Web Room and the room devices is customized according to the hotel manager's needs. In this example, the light turn on and off controls are on the room icon. The status of representation changes depending on the real status of the lights even if the control occurs through the traditional switch buttons present in the room.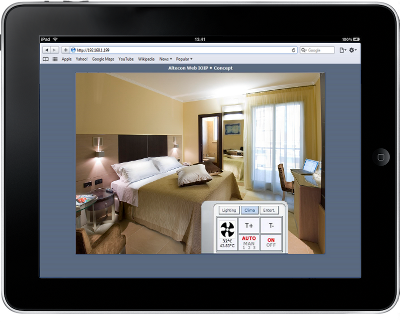 The small menu includes the commands relative to the light scenarios and the AC set-up.
Interactive Demos
Active Web Room Interactive demos are available.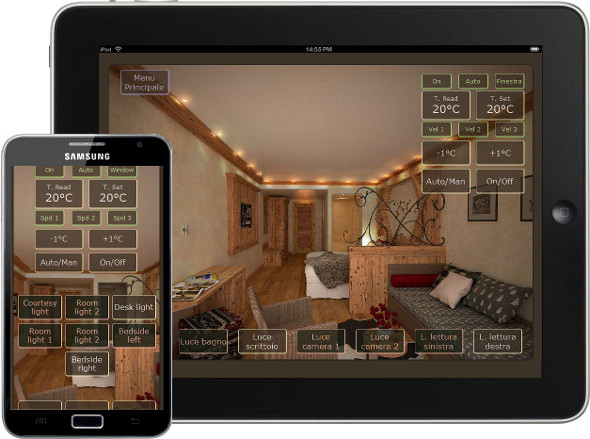 Switching between the Wide View (best suited for tablets and PCs) and the Narrow View (ideal for Smartphones) or change the language can be done at any time.