Products and solutions » Hotel automation » Service Hotel Software
Service Hotel Management Software
Service Hotel Software controls efficiently the AC and the cards used to access rooms and common areas, in addition to offering services such as automatic payment. Service Hotel Software is also available in a optimised version for touch screens and it is multi user, i.e. the system status can be monitored by different users simultaneously.
Frequently used functions are favoured by automatic procedures, in order to make the reception work easier and faster. For example, the check-in operation, that enables and assigns a card to a new guest, is accomplished via a single mouse click and putting the card next to the card encoder.

The staff at the reception can control the situation using two types of display:
Concise Monitor: in which all the information pertinent to a single room are displayed in a single box, such as room vacant or sold, guest in room, room temperature, room alarms, room to make up or made up, do not disturb, maid in room, and other information.

Graphic Monitor: the same information is displayed using very intuitive, customer programmable icons. A feature displaying four images to be associated to each room, is also available. These images can be enlarged to the screen width to allow the guest to have a preview of the room, in alternative to let him to the room.
The Service Hotel Software can generate graphs and lists to document the accesses to rooms and common areas, and all the temperature changes in time.
Configuration
Service Hotel Software includes a complete and detailed configuration interface. For security reasons, access can be limited to the staff authorized to use a password. In particular, a number of options referring to AC Configuration are available.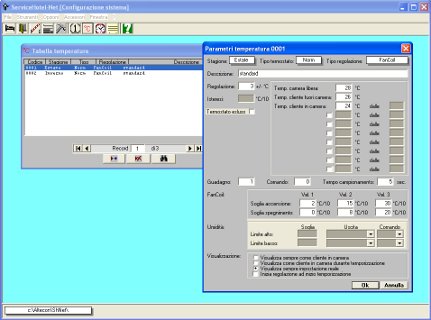 Procedure to configure the temperatures in the rooms