Products and solutions » Hotel automation » Web Room Service
Web Room Service
The hotel staff can control the minibar, the room and any faults using the Smart Phone
Web Room Service is a component of the Service Hotel System and is designed to meet the needs to simplify and ease the hotel room management and maintenance by the hotel staff.

Using this option, the hotel staff can receive, change and send to the reception a number of useful information in real time:
Room staus: report of the status room: make up, made up, faulty with the fault indication (electrical, hydraulic, etc.);
Guest situation: do not disturb, guest in room;
Minibar Management: control of the drinks with automatic debit to guest's account;
Room Monitoring: test of the room devices (lights, curtains, AC,...);
In order to make Web Room Services easier and faster to use, rooms may be filtered based on four criteria: rooms to make up, rooms to make up on check-out, minibar to control, faulty rooms. Criteria can be combined.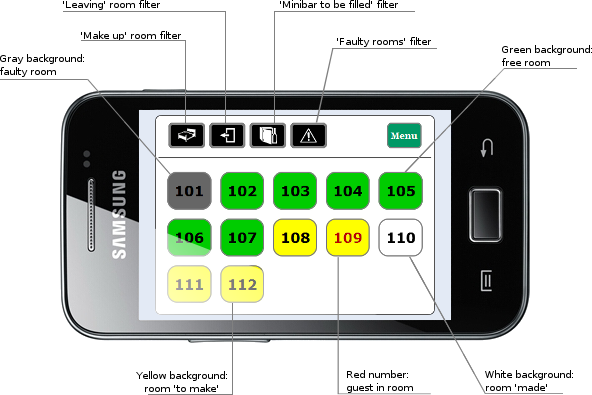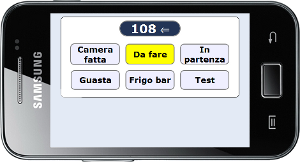 Room Management
When the maid puts her card into the card holder inside the room or when she selects the room from the main menu, she activates a menu with the followings menu entries:
Make up Room;
Test Room Functions;
Control Minibar;
Other programmable Menu Entries.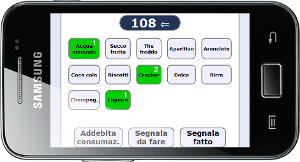 Minibar Refilling
Refilling the minibar is the most important function offered by Web Room Service. This function allows the maid to report the minibar status to the reception, using a simple screen format in the tablet. This screen format can be customized based on the drinks offered typically by the hotel.

Along with the information about the drinks to supply, the Service Hotel Software allows to debit the drinks to the guest's account (according to the specific hotel policy).

Also, Service Hotel Software allows to print supply lists for each single room, organized according to the hotel procedures for the rooms: by floor, by time range, by check-in times, etc. Using these lists, the maid can easily and securely refill the drinks in the room minibar.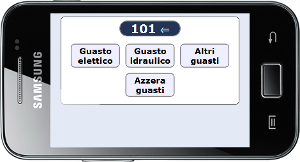 Fault Management
The maid can test the room functions and report any faults: these are immediately recorded in the supervision software and the maintenance operator is immediately warned.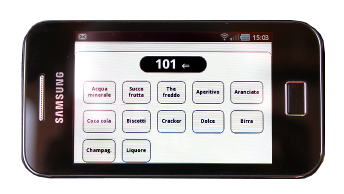 Web Room Service on Samsung Galaxy - Minibar Management