Wireless Devices application
The need to simplify the design of a plant, (e.g. renovation works) led us to develop solutions to solve problems like wiring, which is not always a viable option.
From physical BUS to wireless
The Room BUS is in charge of communication between the IP Central Unit and the room devices (e.g. card reader, thermostat, etc.). As an alternative, communication can be provided via wireless installing appropriate modules both in the Central Units and into the room devices.
An automation application: the Wireless Window Contact
Installing a complete automation system to control climate during the renovation of a room may not be easy. This requires to place a contact on the windows and to connect it with the climate controls. This operation involves wiring an appropriate BUS and this is not always possible. Altecon's Wireless Window Control solves this technical hitch allowing the windows opening sensors to communicate with the automation using the wireless technology.
Operating
The Wireless Window Contact has the peculiarity of being installed and working even without the Central Unit. It is possible to make it communicate with another Wireless Device interfaced directly with the fancoil's power supply. Hence it is possible to realize a simple climate controller, able to minimize the waste of electric power due to the opening of the windows without stopping the fancoil.
Real consumption
Devices like the Wireless Window Contact can be powered by electricity network or by batteries, hence the consumption of these devices is a very important factor.
To objectively evaluate this aspect we had installed ourselves a Wireless Window Contact ourselves since the beginning of the 2010, and then we started to analyze data about the level of the batteries (new readings will be integrated from time to time):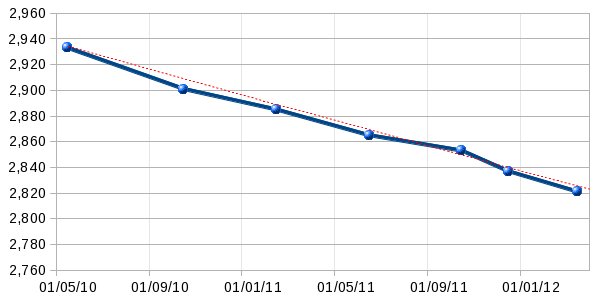 Wireless Window Contact - Batteries level measured during data transmission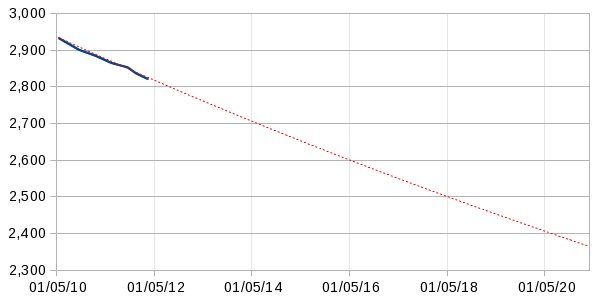 Wireless Window Contact - Expected trend over time
The chart shows Altecon's Wireless Devices are very energy-effective as they can keep working for many years without external interference without replacing the batteries.
However, factors as the cold (to be kept into account in seasonal hotels closed in winter), the quality and the natural deterioration of the batteries, may compete to abbreviate their life.
Diagnostic
The status of the batteries is costantly controlled. This allows to report the "dead battery" status immediately and replace them before causing an inefficiency situation.
Last update: 12/03/2012